News
Subscribe to posts
(Elivs 'Ago Presley mowing the pitches at Edenderry GAA)
Episode 3 - Second Attempt
The Red Massey 135 came to a halt outside the storage hut and Pat 'Ago' Cullen dis-mounted and began opening the doors to the grey shed that housed his partner in the never ending struggle against the green creeping enemy that was the lush grass of the Edenderry GAA main pitch. On opening one door he turned to begin opening the second door when suddenly right there in front of him a figure appeared like an apparition. Pat was momentarily startled but instantly recognised the face of the Vice Chairman David Farrell. "F**k me Dave, you frightened the sh**e out of me" Pat laughed nervously, "Are you trying to give me a heart attack?".  David smiled knowingly, "Well sure aren't you in the right place if you do keel over" responded the shadowy figure of the Vice Chairman, making reference to the little known fact that the GAA pitch was the designated landing point for any emergency pick up by the local air-ambulance. Pat 'Ago Cullen responded with a slightly nervous laugh. 
Elvis pictured beside the medical helicopter after one of his many heart attacks)
"Well Ago, I heard you and Willie had a chat" began David. "Oh yeah, he was here earlier alright" confirmed Ago. David began his sales pitch. "Would you not give it a go? Sure one night in the pavilion playing to a select crowd wouldn't kill you, it would be just like old times". David paused for a moment, checking he still had his prey's attention before resuming. "Jaysus Ago the lads would really love to go to Kiev and this is the only way to raise enough money that quickly". Elvis 'Ago' Presley looked directly at the Vice-Chairman, he liked David, he felt they were kindred spirits, they were both no nonsense type fellas who got things done. 
(Elvis 'Ago Presley & Vice Chairman Colonel David Farrell have a fantastic working relationship)
David sensed his chance and went in for the kill. "I could make it worth your while you know" he slyly added. Elvis's eyes darted towards the plotting Vice-Chairman's face. "What do mean?" enquired the current Edenderry grounds man who formerly went by the name of Elvis Presley. "Well" began David, "how does a year's supply of frozen chicken Kiev's sound?", Elvis smiled, David always knew the right things to say, he knew that Elvis loved nothing more than a high calorie, high fat daily treat, sure wasn't that what nearly killed him back in '77, it wasn't the prescription drugs like everyone now assumes.
(LEFT: Elvis LOVES chicken Kiev's & RIGHT: Drugs didn't kill the King baby, he's just taking a break!)
"Sure if we're going to Kiev there must be loads of Kiev's in Kiev" laughed David. Elvis was instantly sold, "It's a deal, but for one night only mind, and I'm going to need a band and an outfit and….", David raised his hand indicating for the King to shut up, revealing a lit Cuban cigar between his fingers. "Leave everything to me Elvis my boy, like I said, it will be just like old times", grinned the devious VC. "You just make sure you are in the GAA pavilion at 8pm tomorrow night" and with that, as quick as he had materialised, the VC was gone!
(Ask not what your GAA club can do for you, ASK what you can do for your GAA club)
The heaving crowd was bathed in sweat and near exhaustion, but every single person in the pavilion had a look of complete exhilaration on their face. It had been the greatest night of their lives. Everyone was in no doubt that the King of Rock & Roll was still the King of Rock & Roll. Nobody wanted to move, they wanted to stay here forever and live in this moment. 
(Elvis performing to a sold out crowd in Edenderry. Gary Blong on drums, Tom Lawton on Bass & Padraig Ennis on guitar)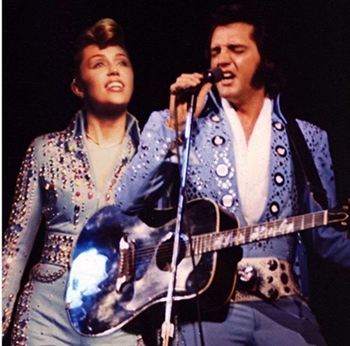 (Mag Furey (nee Brady) shares the stage with Elvis 'Ago Presley at the sold out pavilion)
But suddenly the feeling of joy was harshly interrupted by the crackling from the 1970's speaker system in the Edenderry hall. "LADIES AND GENTLEMEN, ELVIS HAS LEFT THE PAVILLION" the familiar suave voice proclaimed to screams of agony and disappointment from the audience. 
(Nikki Farrell (right) REALLY REALLY enjoyed the concert)
David Farrell turned off the PA system with a quick flick of a switch and laughed out loud. "It's all coming together" he giggled. At that moment he glanced at the table in the centre of the box office he had created for the night of the Kings comeback. It was overflowing with €50 and €100 notes, so much so that some spilled onto the floor. David moved over to the table and with one swish of his powerful arm he brushed all the money onto the floor making a huge Croghan hill-like peak, he dived headlong into the cash and lay there in complete bliss. He had done it, he had got the money he needed. 
(Colonel David Farrell bathing in money)
He sat up and took a puff from his Cuban cigar & adjusted his over-sized cowboy hat that he had begun wearing that morning. He curled the left side of his top lip up towards his nostril and muttered in his best Mississippi accent "thank you, thank you very much". Suddenly the door swung open, it was Colm Cummins, the clean cut Secretary of the Edenderry GAA. "Jaysus, Dave! are you alright there?" enquired the sometimes Central GAA Council Committee member. "Oh yeah, I'm grand thanks, just slipped there while counting the money, this auld hat is hard to handle you know, kind of lost me balance". 
(The clean cut tee-total club Secretary Colm Cummins (left) pictured in 2010 with then GAA President Christy Cooney)
There was a moment of silence and a slight quizzical look in the eyes of the all-knowing Secretary. "Well, poor Ago is outside and he needs a lift now before these fans rip him to shreds, can you do it? panted Colm. "Just leave everything to me my boy" smiled the strangely dressed Vice Chairman in his new found over the top Mississippi accent. "Have you been drinking?" the tee-total Secretary enquired further. VC David Farrell composed himself, "Eh Oh sorry, sorry, no god no" he apologised. "Don't you worry Colm, I'll make sure Ago gets to where he needs to go" he sniggered.
TO BE CONTINUED................
The panel for Kiev will be announced on Thursday, what players will make it?
Why are so many former players keen to go to Kiev?
Can Sean Doyle really score 2-10 against St Aidanchenko's like Nikita suggested?
With 'Ago & Willie now out of the picture, what is the Vice Chairman really up to?
Clean cut tee-total club secretary........ Hmmmmm?
TUNE IN TOMORROW FOR EPISODE 4
Time for our sponsored ads.............
Tony Mulvin Auctioneers
'It's not my fault I'm from Rhode'
Dermot Hall Menswear
The Square, Edenderry
'It's coming in on the bus this Thursday'
Dayfast Couriers
The back road, Edenderry
'We never said what day'
Rosdera Meats
'What smell'?
Teams have been announced for tonight's Mini National Leagues Round One Games.  
Click on the images below for TEAM LISTS & FIXTURES
U6 & U8 Games Commence 6.30pm - NEW PITCHES CARRICK ESKER
U10 & U12 Games Commence 7.30pm - NEW PITCHES CARRICK ESKER
PS. If you registered your child and don't see their name on a team please TEXT Colm 087 7638171 to

rectify

 error.
If you still wish to sign up there are some spare places, don't hesitate to TEXT the number above
Edenderry............4-13
Tullamore............0-12
The senior footballers collected their first brace of points in the Division One league with an emphatic thirteen point victory over Tullamore in Tullamore on Tuesday night.
In an end to end battle in the first half the side were very much evenly balanced with Sean Doyle and Michael Brazil trading two points each in the first nine minutes.
Points from Alex Kenny and Keith McGuinness put Edenderry 0-4 0-3 ahead in the twenty first minute but Tullamore replied with two more scores to give them the edge with six minutes remaining. 
Edenderry hit a purple patch and an excellent point from Colm Byrne had the sides level before an Alex Kenny point gave the reds a one point lead.
A goal from John Gorman in the twentieth ninth minute gave Edenderry a four point cushion but Tullamore pulled one point back deep into injury time.
Half Time
Edenderry 1-6
Tullamore 0-6
The opening score of the second half went to Tullamore in the thirty second minute but it was the following six minutes which ultimately decided the game. Sean Doyle pointed before goals from Colm Byrne and Richie Dalton in the space of sixty seconds decided the game. Further scores from Alex Kenny and Sean Doyle (3) helped Edenderry open up an eleven point lead and in the final eight minutes of the game Jordan Hayes, Richie Dalton and Alex Kenny contributed points to bring Edenderry's tally to 4-13.
Team:
Shane Cummins, Adam Mahon, Evan Kelly, Andrew Forde, Colm Byrne (1-1), David Brady, Mark Abbott, Stephen Guing, Richie Dalton (1-1), Jordan Hayes (0-1), Keith McGuinness (0-1), John Gorman (1-0), Ciaran Farrell, Alex Kenny (0-4), Sean Doyle (1-5).
Subs: Jamie Dolan for John Gorman, Mark Young for Keith McGuiness, Jake Kenny for Shane Cummins
(Who is 'Ago Cullen?).........
Episode 2 - The Schemer
Chairman Willie Forde composed himself for a moment and slowly centred himself in the electrically heated seats of his newly acquired top of the range KIA Optima. The time was now. "Look, Ago" Willie began, "We all know that Ago is only a cover for your real name, sure everyone in the town knows who you really are, and in fairness, people have been more than happy to keep your true identity a secret, but you're gonna have to come out of hiding, we need you to have another comeback special like in 1968 here in the pavilion this week, sure you'd draw the crowds in from Clonbollogue and everywhere!" pleaded Willie.
(The state of the art GAA pavilion - Elvis played to a sold out house in 1972)
Ago quickly straightened up but immediately banged his head off the inside of the KIA Optima, it was only plastic but it hurt. "For f**ks sake!!" groaned Ago, "Jaysus! I'm after bursting me head out of it!". He was now extremely agitated and it wasn't a pretty sight. Willie knew things had taken a nasty turn. He wasn't counting on his newly acquired car letting him down in this way. "Jaysus Elvis, I mean Ago, are you alright?, I'm really sorry if this has been a bit too much for you to take in, but we need you now Elvis, more than ever Edenderry GAA needs you!" he pleaded.
(LEFT: Elvis 'Ago Presley serenades Stephanie Kelly at his sold out gig in '72. RIGHT: The Kenny sisters & Collette Farrell meet Elvis)
Pat 'Ago' Cullen jumped backwards out of the window of the plush KIA Optima, his head was throbbing and he felt a surge of anger running through his body. Only five minutes earlier he had been strolling peacefully in the yard alongside his beloved GAA pitch, basking in its glory, and now he was jumping around that same yard in agony. "Willie always brings trouble" he reminded himself. He knew it the minute he had seen his car arriving.  Just at that moment the Chairman himself appeared alongside Ago attempting to comfort and calm the agitated grounds man. "Elvis are you okay?" he enquired. "No I'm fecking not okay" shouted Ago, "and stop calling me Elvis ya gobsh**e, it sounds like you are the one who got the bang on the head" Ago angrily retorted. "Sorry Elvis, I mean Pat, I mean Ago, or whatever your name is at this stage" Willie answered, but, it was too late, the recently injured grounds man had already begun making his way across the expansive yard of the GAA grounds pausing only to turn and shout incoherently back at the forlorn GAA Chairman. In no time he had mounted his Massey 135 tractor and was making for the training area at the top of the main field at break neck speed.
Willie sat back into his KIA Optima, he shuffled around in his seat wondering what his next move should be. He turned on his Bluetooth and searched for the name of David Farrell in his contacts list. The phone rang and almost instantly the unmistakable voice of his Vice Chairman could be heard at the other end. "Well?, how did it go? Will he do it?" the Vice Chairman impatiently enquired. "he will in his b*ll*x" Willie responded, matching his Vice Chairman's impatient tone. "Ah Willie!! Did you make him thick again?" enquired David. "I think so" Willie answered in a resigned tone. "He's gone storming off in the Massey 135, I'll never catch him in this hape of sh**e I'm driving" he continued, "I may leave it until later today and try him again". "NO!" David firmly interjected, "No, leave it for the moment, just tell me everything that was said and I'll chat him later, me and him get on well".
(The unscrupulous vice chairman David Farrell (left) would say mass if he was let)
Willie recounted the full conversation to his underling and on completing the call pointed his KIA Optima for his newly opened SPAR Superstore in Kinnegad. "Now to make loads of money off that Westmeath crowd" he grinned contentedly. He had tried but failed to convince the King to make a stunning comeback. 
(Chairman Willie Forde became a millionaire overnight after he opened the Kinnegad branch of his huge Spar portfolio)
Elvis Presley slowed the Massey 135 to a crawl and glanced towards the main gate just in time to see the Chairman's car exit the grounds of the Edenderry GAA's modern complex. He pressed the break on his majestic mowing machine and sat slowly back in his custom made tractor seat. A hint of a smile began to appear on his unmistakable face.  He cleared his throat……………………., "I'm All Shook Up" he crooned, "ahaw, ahaw, YEAH YEAH"!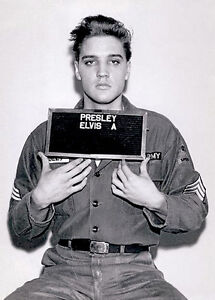 (Elivs was arrested by Sergeant John Reilly when he first moved to Edenderry in 1977)
TO BE CONTINUED
If Willie can't, who can convince 'Ago Presley to come out of retirement?
Is the Vice Chairman as devious as people really think? You bet ya!
What players are in line to go to Kiev?
Will Stephanie Kelly ever meet her true prince?
TUNE IN TOMORROW FOR EPISODE 3
Lidl Edenderry
Massive new store
Still the same sh**e!
Spar Supermarket - Kinnegad
Proprietor - Willie Forde
Everything you need
Even if it's Westmeath
O'Donogue's Bar & Lounge
Fr Kearns Street
We cater for all types of Table quizes
Offaly U17's take on Westmeath on Wednesday night in O'Connor Park and three Edenderry men will start the game. Briain Nolan, Rory Egan and Daniel Lowry will be lining out at corner back, centre back and full forward line. 
Eric Corcoran and Lee Pearson are also representing Edenderry on the panel and Rory Egan will captain the team from centre back.
Best wishes to all involved.
(Finbarr Cullen was the last Offaly man to lift the Delaney cup)
Former Offaly and Edenderry footballers Finbarr Cullen & Peter Brady have sensationally come out of retirement and are set to feature in Interim boss Paul Rouse's squad ahead of the qualifier on June 9th.
The news emerged early this morning after it was confirmed that a host of former players had made themselves available to the new Interim boss and the former Offaly stalwarts, who won a Leinster together in 1997, are two of the big surprise names involved.
"Ah yea I think I still have something to offer to be fair otherwise I wouldn't come back" Cullen reportedly told the Edenderry Topic. "I've been playing with the masters team so I'm flying fit. I can't wait to don the green white and gold jersey again" said the Leinster winning captain.
Mr Brady also expressed his delight at getting the opportunity to play for his county again eighteen years after he retired. 
"By jasus I can't wait" he's quoted as saying.
(Peter Brady in action v Dublin)..........
The 3rd man from Edenderry from the 1997 Offaly panel and 1999 Dowling Cup winning captain Kevin Guing has also expressed an interest in returning to the Offaly set up telling our reporter "Yea I'd be interested. I might actually get a game this time" Mr Guing said.
Negotiations are said to be at a sensitive stage but continue to take place as 1982 All-Ireland medal winner Gerry Carroll has also been tipped for a return. 
(Pat 'Ago Cullen (left), if that is in fact his real name)
Episode 1 - 'The Set-Up'
Pat 'Ago' Cullen walked slowly across the open yard. He had just parked his 2018 BMW 7 series alongside the pavilion building. The sun was out, the birds were singing, it was a bright warm sunny May morning. "Could be worse I suppose" Ago thought to himself as he finished the last of his woodbine. It was Monday morning after all and everybody hates Mondays. His attention was momentarily drawn to the beautiful expanse of velvety green grass to his left. He stopped and stared for a few moments. "Jaysus, I have her immaculate" he whispered to himself. The brief moment of bliss was broken by the unmistakeable sound of a top of the range KIA Optima purring as it drove through the gates of the Edenderry GAA main pitch. Ago slowly turned around purely to check what he already guessed. "hmm, thought so" said Ago, "now what does this b*llox want?" Ago groaned. "can't be good news anyway !" he added with resignation.
(The velvety surface at Edenderry GAA courtesy of Pat 'Ago Cullen)
The fabulous top of the range 2018 KIA Optima, acquired only a few weeks earlier in Lawton & Foley Motors, Dublin Road, Edenderry, effortlessly moved slowly alongside the much storied grounds man.  Slowly the tinted passenger window was lowered and Pat Ago Cullen bent over and assumed the time honoured pose of an Irish man leaning in a car window. "Well Willie?" Pat opened up with. "Well Pat, how's she cutting?" replied Willie Forde, one of the glorious leaders of the Edenderry GAA since the bloodless coup of 2005.  "Cuttin !, Cuttin!" roared Ago, "aren't I fecking forever cuttin', sure I'm strangled on that Massey 135,  mornin' noon & night I'm jaysus'n cuttin !!". Willie quickly stepped in, "I know, I know" replied the Chairman, "but sure look at it out there, you have her manicured to the last". Ago instantly calmed down and prepared himself for whatever was coming next from the scheming Chairman.
(LEFT: Willie Forde's new Kia Optima which was sponsored by Lawton & Foley garage & RIGHT: The Chairman strikes yet another business deal)
"Did you hear the latest Pat?" Willie began, "No" Ago replied impatiently. "Well, we had a committee meeting last night, and you're not gonna believe it but didn't me Vice Chairman David Farrell only show us some e-mails he is after getting from UEFA and The President of the GAA himself enquiring would Edenderry be interested in playing in a curtain raiser before the Champions League Final on the 26
th
May!". Ago paused, confused for a moment, "What the f**k is the Champions League? Is that the 7-a-side tournament that's on in Dublin every year?"  Willie shook his head violently, "No, Jaysus No!, this is being played in Kiev, in the Ukraine". Ago's eyes lit up, "Kiev!, as in chicken kievs?" enquired Ago, "hmmmmmm" he drooled, "I love chicken kievs, I had 2 for me tae last night, fecking delicious they were".  Willie was getting agitated by the grounds' man's fascination with chicken related cuisine.  "look Pat, I'll get straight to the point" the Chairman began. "The club can't afford to send a team to Kiev at such short notice, sure you might as well be heading to Dingle or Donegal", exaggerated Willie, "So we discussed it at the meeting and David has an idea for a fundraiser for the lads, he was telling us he met with a good few of the players already & they are all mad keen to go and showcase their wonderful skills to the Ukrainian people, it'd be a terrible shame to miss this chance".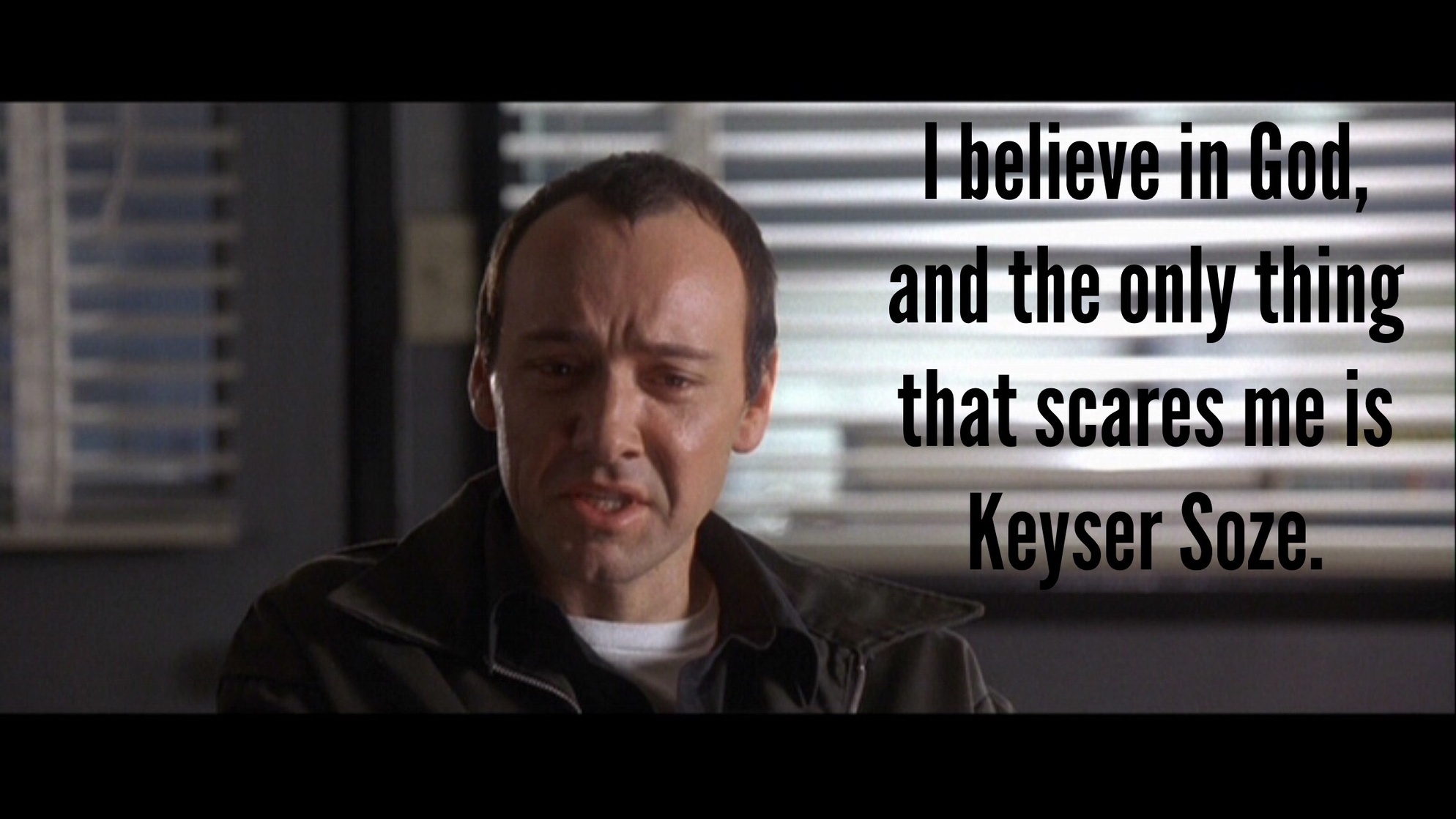 (Edenderry's Keyser Soze will reveal himself in Episode 5)
'Ago shuffled in his window leaning stance, moving his weight forward and edging further into the KIA Optima 2018, he instantly noticed the beautiful aroma of "new car smell", it was similar to his own BMW sitting not 30 metres away in the GAA grounds, his senses were awash with this intoxicating smell mixed with the lingering thoughts of the delicious chicken kievs he had consumed the previous evening. He was sure the Chairman had to have noticed the faraway look in his eye, and, while he wasn't sure, he may have even moaned in a low weird tone which he was sure would unsettle anyone let alone the Chairman of a highly successful GAA Club.
(Edenderry GAA could play in the curtain raiser Saturday night if they can get the required funds)
Ago quickly regained his normal composure, "Willie, I couldn't give a sh**e about some 7 a side tournament in the arse-hole of nowhere, I have grass to cut, now what in the jaysus do you want with me ?" bellowed the genius but impatient grounds man.
(Ago Cullen's pride & joy, the Massey 135)
Willie Forde, Chairman of Edenderry GAA, took a deep intake of breath. This was the moment his whole tenure in power had been leading up to, he had to choose the right words and he had to choose them quickly. He had been handed the difficult task of convincing this man, not only to help the club fund the trip to Kiev, but in doing so he would have to agree to reveal his true identity!
To Be Continued…………
Can Willie convince 'Ago to finally reveal his true identity?
Will the reds make it to Kiev in time?
Is there something more sinister afoot?
Tune in tomorrow for episode 2 !
LARKINS EDENDERRY                                                     
Lounge/Bar & Funeral Home
Don't worry, if the beer is killing you
Sure we'll bury you!

PMB Construction
We're taking over the World!
Ulster Bank Edenderry                                                 

We're outta here!! 
Lawton & Foley's Garage
Dublin road, Edenderry
Proud official sponsor of Willie Forde