News
Subscribe to posts
The postponed fixture between Offaly v Derry will take place on Sunday February 18th in Derry which means that the Edenderry representatives will now be unavailable to the club for this weekends league clash with reigning champions Rhode.
(Hall of Fame award 2017 - Sean 'Hooper' Farrell)
(Minor hurler of the year Oisin O'Grady)
(Minor footballer of the year Conor McCarthy)
(U21 footballer of the year David Moloney)
(Junior footballer of the year Evan Kelly)
(Club person of the year award Angela Delaney)
(Supporter of the year Andy Walsh)
(Senior ladies player of the year (Emer Lawless)
(Senior player of the year Richie Dalton)
(A special presentation to Mag Farrell & Phil Swords)
(Minor ladies player of the year Sarah Cummins)
(The 2017 Minor ladies champions)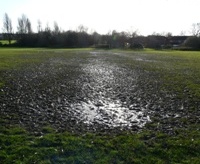 The training area at our main grounds is closed until next week due to recent weather conditions.
The senior 'A' football championship draw was made at Tuesday nights county board meeting and it will see the 2015 and 2013 champions Edenderry and Tullamore clash in the opening round.
There has been very little between the sides on several occasions over the past few years and there is rarely more than a point or two between the sides. This opening round fixture is sure to be no different. The game is currently scheduled to be played in April.
First round draw:
Edenderry v Tullamore
Rhode v Cappincur
Gracefield v Clara
Durrow v Ferbane
On Friday next at the Edenderry GAA Awards evening we will be acknowledging the great achievement of the 1957 winning Senior Football Team - 60 years on.
In 1957, Edenderry qualified for their fourth County Final in the fifties, having previously won it in 1951 & 1953 and beaten by Durrow in 1952. Edenderry beat favourites Daingean in the Semi Final on a score-line of 3-4 to 1-9 with goals from Sean 'Hooper' Farrell (2) & Michael Nolan. A young Tommy Cullen was a revelation in the game despite having played a Minor Hurling match earlier in the day.
The Reds eased to their 4th ever County Title ever with a comfortable victory over Clara in the 1957 Final. An early goal from Pat Nolan was followed by one each from Sean Hooper Farrell & Paddy Fenlon to leave the Reds leading 3-4 to 0-1 at the break. Only two points were added to the tally in the second half as the Reds strolled to victory. 

Little did anyone think it would be 28 years until the Red won another title particularly as they dominated the decade. Unfortunately many of the great Reds are gone to their eternal reward but we hope to have some members of the squad with us on Friday night to remember their great days.