BREAKING NEWS
By Niveked........
The all conquering Leinster rugby team have sought permission to train at the state of art Edenderry GAA complex ahead of their European Champions Cup final v Racing 92 on Saturday May 12th according to local daily newspaper reports this morning.
It emerged late last night that discussions had taken place between Leinster manager Leo Cullen, a 3rd cousin twice removed of Groundsman 'Ago' Cullen, and club secretary Colm Cummins who has just returned from 3 months vacation in the Cayman Island's to see if a deal could be struck for the three time European champions to train at Edenderry GAA this Sunday morning.
It is believed that Ireland's best provincial side were due to train at Edenderry RFC this Sunday at 9am but that controversy arose when Leinster rugby captain Isa Nacewa and flanker Josh Van Der Flier discovered that Edenderry RFC is actually based in County Kildare.
"I will in me rocks train in Kildare are you mad Leo" Nacewa supposedly screamed at the former Leinster captain Leo Cullen. "The sooner Trump builds that Border Wall between Edenderry and Kildare the better" he's reported to have said.
Flanker Van Der Flier was just as adamant that the team should not train in Kildare but was certainly open to the idea of using the GAA facilities instead.
"I know Edenderry RFC are a great club, best of facilities and I've nothing but respect for them but you couldn't honestly expect us to train in Kildare. I get the heebee jeebee's just thinking about it" the Wicklow native reportedly told Cullen.
Mr Nacewa & Mr Van Der Flier are devoted Edenderry supporters and even trained with the senior football team back in January in a bid to get extra fit for the final months of the season. Speaking to the Edenderry Topic back in February Mr Nacewa said "Good God I never done training like that in my life. Maccer and Peter ran the s**t out of us, lunatics the two of them. But it's definitely paid off as we're flying fit for the biggest game of the season" he said.
(Leinster rugby are arranging warm weather training ahead of their final in Balbao, Spain next Saturday)
Club secretary Colm Cummins is said to have approached head groundsman Pat 'Ago' Cullen to float the idea past him but it was dismissed out of hand by Mr Cullen who said "they'll ruin the jasus pitch for feck sake and I only after mowing the feckin thing". Mr Cummins is said to be keen to help the session go ahead allegedly telling the Executive Committee "Think of the revenue, we could make a fortune out of this".
(Artist impression of Club secretary Colm Cummins)
Former Ireland and Leinster captain Brian O'Driscoil, arguably the greatest player in the history of any sport that's ever been played, is one of Edenderry GAA's most most steadfast supporters and regularly spends the summer months with his wife and children at the Fisherman Rest B & B on Fr Kearn's Street. 
"I've always loved watching Basil Malone in action, he goes in for them breaks like a man possessed. A hardy h**r. He'll be hard replaced when he calls time on his career" O'Driscoil told the Edenderry Topic after the reds county final victory in 2011.
One potential stumbling block is the GAA rules that forbids foreign games to be played on GAA soil. We approached club Chairman Willie Forde to find out if this rule could veto the whole plan.
"Well it is a problem right but we think we can find a solution right. We're suggesting that the training area behind the main pitch be used by 'the pack', isn't that what they call it yea, so they can practice the rolling around and leaping and jumping and all that carry on right. We think the boys who kick the ball could use the main pitch so they can practice kicking the ball into our stand, that always seems to draw a big cheer when they kick it out play right. We'll cram four or five into the gym and the rest of the boys can do the 5 mile around by Furey's Hill and then they can all retreat to the swimming pool to use the ice baths right. I'll square it with Jeff Traynor right" Mr Forde said.
Club secretary Colm Cummins is believed to be coming under severe pressure from his school chums and in a leaked screenshot from his WhatsApp group entitled 'Football Friends' some former dual players are encouraging the accommodation of Leinster rugby's training session.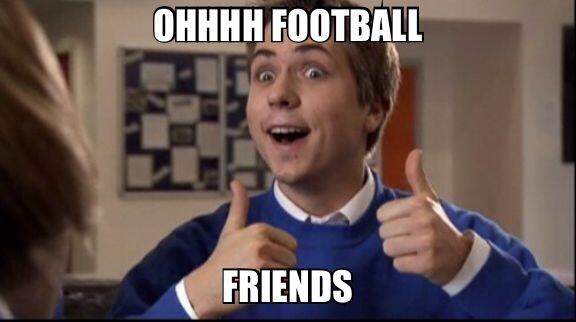 (Club Secretary Colm Cummins WhatsApp group was inspired by The Inbetweeners)
One friend named 'Champagne Robbie Glennon' stated "Colm, as a former Ireland rugby youth international & senior football star, (I scored a goal in the 2001 county final v Rhode remember) I feel you should be pushing hard to make sure our rugby boys get this session in on Sunday morning".
Former reds corner back Wayne Mooney, who enjoyed a wonderful training and playing relationship with Mr Glennon, has also backed the proposal.
A spokesman for Leinster rugby confirmed that talks did take place on Thursday night but that nothing has been decided just yet. It's believed that the training would attract a huge crowd and the spokesman confirmed that supporter buses will be laid on so that the fans can watch the team train ahead of the big game.
"OMG loike for sure you know, we think it would be totes amazballs if our fans were there to cheer on the boys. Our supporters are so diverse for sure and we plan on busing them in from the four corners of the Province. We have coaches arranged from places such as Killiney, Blackrock, Shankill, Dalkey, Stillorgan, Drumcondra and even Rathfarnham. We've been googling the local wine bars in Edenderry although one or two of our esteemed members are quite partial to a pint of Heino or a craft beer" the spokesman declared. While it's expected that the luxury coaches leaving Dublin will be full it is believed that there will be plenty of room left on the bandwagons.
We took to the streets to gauge the locals reaction to the news that Leinster rugby team could possibly be training in Edenderry GAA this weekend. There was a lot of mixed views.
"I think it's a thundering disgrace. They shouldn't be let near our hallowed ground. What would Clarence Grey think of it" stated former reds footballer and local historian Ciaran Reilly but his younger brother Briain was more open to the idea. "Could be a bit of craic, few pints after it" he said.
Avid Leinster supporters Greg Farrelly and Padraig Foy are giddy at the prospect of seeing Johnny Sexton, Gary Ringrose and 'all the lads' train in Edenderry GAA. "We're getting dizzy with excitement at the thoughts of all the recycling and phases of play that could take place" the two men claimed. It's also believed Mr Foy hopes that his favourite player Sean O'Brien would help him milk his Aryshire and Friesian cattle at his ranch in Ballindoolan before training starts.
Local publicans Eoin Byrne and Patrick Larkin have backed the proposal and have even offered to fly in renowned rugby referees Nigel Owens and Wayne Barnes to help out at the training session. "We think it would be great for the local economy if this session went ahead" My Byrne stated. "We're not sure if the two referees can come but Jimmy Grady is available and his daily rates are reasonable if needs be" Mr Byrne added.
"If the two lads are available we were actually thinking of deploying them in the lounge of the pubs on game day in case a scrum breaks out. The crowd get very animated and you know the type of shenanigans that go on in a scrum" Pat Larkin explained.
Club President's Eddie Kenny has vowed to close the curtains if the training is given the go ahead saying "Curse a jasus on them anyway letting foreign games into the place and we can't even field a hurling team" Mr Kenny fumed. 
It's believed the team bus is expected to travel along the M6 and turn off at Kinnegad at the request of the Leinster players in a bid to avoid entering the town via Carbury and local Cllr Noel Cribben has backed the idea 100%.
"That's a much better idea as it means the team coach will avoid driving by that abomination of an old Quinnsworth site plus the main street is no longer wide enough to fit a bus anyway" Mr Cribben is reported to have said.
Recently turned rugby fan and former AFL footballer Stephen Guing has expressed his outrage at the the decision to potentially block the teams usage of the pitch.
"I think it's a disgrace to be honest. This has nothing to do with the fact that senior training would have to be called off and that Peter was planning on making us do 12000 metres running. Nothing whatsover" Mr Guing said smiling.
Carrick road native and underage scoring sensation Brendan McGrath Jnr, who now lives in Dublin and is a stockbroker and accountant by trade, told Vice Chairman and former classmate David Farrell that the club need to cut out this nonsense immediately.
"Ah jasus no you can't be having this kinda carry on for Christ sake. I don't want my new friends in D4 discovering Edenderry. I've worked hard to cover it up" he said.
Edenderry club member and season ticket holder at Thomond Park Niall O'Leary has threatened to withdraw his membership if the training session goes ahead.
"I'll be blunt
. I hope they lose" the retired Garda said when asked for comment.
(Retired Garda Niall O'Leary (left) who hails from the butt end of West Cork is a staunch Munster fan)